A worldwide network on-site for you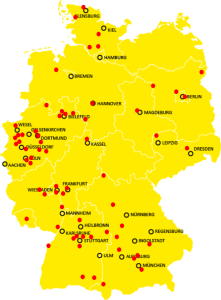 Founded in Berlin in 1968, Deutsche Möbelspedition (DMS) is a global cooperative association of German logistics providers specialising in the areas of moving, transport and storage. Today the whole network numbers 7,400 staff members who work at 120 locations.
The idea of cooperation originally occurred in order to optimise the balancing out of loading space and to minimise empty runs. Over the course of time a corporate model was created as part of which, while retaining their independence, removal and storage companies networked to form a cooperative which has gone far beyond its original goal. In Germany, DMS is a market leader in the areas of moving and logistics.
Focussing on the customer
In 1995, the first 16 DMS partner companies were certified for active quality management in accordance with DIN ISO 9001.  Since then, all DMS partner companies have been certified and undergo regular audits by the TÜV organisation. This means that a consistently high level of quality is guaranteed for customers. In 2012, the first partner companies were certified in accordance with the international environmental management standard DIN ISO 14001. Naturally, Höhne-Grass also possesses the environmental management certificate.
Through global networking by DMS its member companies can also optimally fulfil customers' requirements abroad. Customer satisfaction has always been and remains the highest goal for DMS.
DMS also means dynamic, human, secure