Your office move in good hands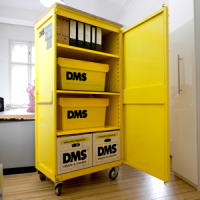 Office moves are the most frequent type of company moves. It can happen that when offices grow smaller or are enlarged, locations are added or become obsolete or a completely new business is started. Regardless of the reason and the dimensions of your office move, our removal company is ideally prepared for each situation. From the home office to the administrative unit with several hundred offices, we have enough experience and have already successfully carried out moves as a part of many large projects. Our removal staff are ideally trained in dealing with office equipment, archives, computers, printers, copiers, etc., and know what is needed.  Small IT parts such as mouses, keyboards and cables are just as conscientiously packed, numbered and transported as filing cabinets, writing tables, office chairs and rolling containers. Do you regularly have to deal with in-house office moves? Then we would pleased to let you know about our in-house service.
Building removals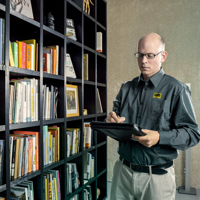 Separately or as part of office moves, we also carry out special building moves of the most varied type. For example, these include laboratory moves, library and archives moves, machinery moves, art object moves and IT moves. Each building move requires specific know-how so that the special objects being moved can be successfully relocated. With us you can be sure that we will be well able to respond to your moving requirements. As a full service removal company you will benefit from a removal partner that has everything under control.
For big projects it sensible to have your move planned by one of our project managers specialising in office moves/building moves. Together with our removal managers we draw up detailed plans for the implementation of your moving project. In this respect, we permanently align the desired state of things with the actual state of things so that we can react as quickly as possible if there any deviations or spontaneous additional requirements. The all-encompassing preparations guarantee that your office move takes place within the shortest possible time so that your business can continue to operate.
Office move/building move services
packing/unpacking
optimal packaging for computers, mouses and related objects
disassembly/reassembly of your office furniture
professional project management/removal management
swift project implementation on schedule (if necessary, in the evening/at the weekend)
complete assignment to their proper place of all office components from the old to the new location
use of specific removal aids, from external lifts to rolling file carts
cleaning of the furniture during the move   
disposal and use of old furniture and electronic scrap
Moving of all IT components including servers
What to do with your old office furniture?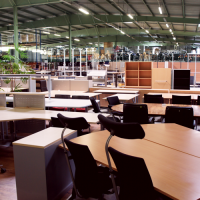 To us if you like. If you have planned to use new office equipment in your new premises, we will take on your used office furniture by request. You don't have to deal with the disposal or transportation, we'll take care of that. Our sister company, Friedrich Friedrich, redoes used office furniture on their premises and offers it for sale. Do you want to save money on office equipment? Then visit our sales warehouse for used office furniture in Griesheim. Over an area of 4,500 square metres high-quality, used office furniture is ready for collection there.