It all depends on having the right know-how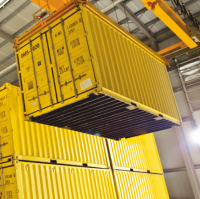 The cure for a removal company is a perfectly organised move overseas. In contrast to moves within your own country or moves within Continental Europe, these require special know-how. Through our membership of the International Associations of Movers (IAM) we have removal partners in all seaports and at all airports in all parts of the world. An experienced move coordinator manages and guides your overseas move form the starting point to the destination. He/she has online access to the carriers' track and trace portal, and can at any time provide the current status of your consignment sent by sea or air freight. By request, assistance can be provided in English. The move coordinator takes on the task of communicating with removal agents, customs authorities, freight carriers and removal companies so that the regulations related to your overseas move are complied with. While we deal with transporting your goods overseas, you can sit back and relax.
The services we provide for your overseas move/overseas packaging
to begin with, the goods to be moved are inspected and their volume determined so that a suitable mode of transport (air/sea) can be selected
we support you in the completion of the necessary formalities and know what regulations exist in each country
we advise you on what type of overseas packaging is suitable for what purpose
if standard packaging is insufficient, we produce packaging for the goods you are moving that is secure and suitable for transport overseas
if necessary, we provide you with safe and clean storage space in our SB warehouse or in our company's own overseas warehouse
For overseas moves with a volume of up to 10 cubic metres we use what are known as lift-van wooden crates. These have the advantage that they can be shipped cheaply via German seaports to all parts of the world. If a complete household or inventory of goods with a volume of more than 10 cubic metres has to be transported overseas, low-priced transoceanic steel containers are used. Time-sensitive overseas transports up to 2 cubic metres can be carried out by air freight.
Safety for your overseas transport
Through our membership of the DMS and thanks to the DMS blanket policy we can offer you comprehensive transport and storage insurance protection for the whole transport chain.