So that your PC runs smoothly at your new workstation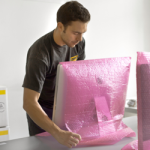 An office or a company without PCs or an internet connection would be inconceivable today. This is why, as part of your IT move, we offer you de-installation, packaging and transportation of all your IT components. To this end we use specially trained removal staff and IT staff who move your servers, PCs and other components in a professional manner. By request, we carry out the complete re-installation including the functional check. With Höhne-Grass you have a removal partner for all your needs and the guarantee that everything is in its proper place and working as it should.
Here is what is required for a successful IT move:
IT experts and specially trained removal staff disconnect the cables from your equipment
we use special IT tubs and transport trolleys to prevent damage
it goes without saying that we use special packing materials for IT equipment, e.g. IT tubs, anti-static bubble wrapping, bags for small IT parts, etc.
all PC components are labelled with removal labels by you or by us so assignment to their proper place in the new location is guaranteed
our trucks, fitted with air suspension, guarantee smooth transportation
cleaning of all or of individual PC components after the move
wiring the components at your IT workstation at your new location
by request: a functional check is carried out by us
With our special offer for your IT move unpleasant surprises are avoided when you start work again. That's a good reason for talking to us.