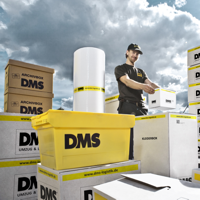 With the right packing materials you move is guaranteed to be quicker, troublefree and, above all, damage-free. Nothing is worse than when granny's valuable porcelain is damaged because it was packed the wrong way or when cardboard moving boxes fall apart because of the poor way in which the weight of their contents is distributed. As a partner of the company DMS (Deutsche Möbelspedition) we exclusively use high-quality, stable cardboard moving boxes, clothes boxes, etc., which can resist bearing weight several times. At the same time this protects the environment because the materials used for the move can be used several times.
You can buy packing materials and cardboard moving boxes from us
High-quality, stable cardboard moving boxes in 3 different sizes (also available secondhand)
cardboard lamp boxes
cardboard key boxes
corner protectors to protect paintings and picture frames
cardboard poster boxes
clothes boxes with a suspension device for clothes hangers for crease-free transport!
special packaging for glasses
transport rollers
protective film, hoods and slipcovers for upholstered furniture, mattresses and electrical devices
laminated bubble wrap
adhesive tapes
and much more
Technical removal equipment
As an experienced removal company with high quality standards we have many little helpers who support us in special moving situations. These include, for example:
storage containers and swap body systems
external lifts
loading ramps for your car
You can easily collect any type of packing material for your move in our removal office in Mainz-Hechtsheim or have it conveniently delivered in advance from our premises. By request we also collect your used cardboard moving boxes after your move has been completed.