We know exactly what you need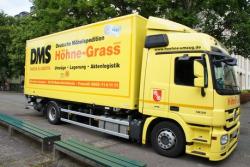 One big advantage of commissioning a removal company is, amongst other things, the provision of special means of transport extending from packaging to technical solutions. If you choose the right means of transport, your move takes place quickly and without any damage being caused. The wrong type of technology and substandard equipment can cause a great deal of damage. Our staff are ideally trained in how to deal with packing materials and technical removal equipment. You will find the appropriate solution for each situation.
Vehicle fleet
Several furniture vehicles with special suspension technology are available for vibration-free transportation. We also have trailers, service vehicles/vehicles for carpenters and swap body systems. If there are special requirements for a move, we fall back on our national partner network.
Packing materials
Professional packing materials for your move guarantee a structured and safe process. These include, amongst other things:
use of suspension file trolleys for cardboard moving boxes
file boxes/plastic boxes (sealable)
tubs for transporting IT equipment (provide protection against shaking, shock damage, dampness)
protective hoods made from bubble foam for IT equipment
special file and books trolleys
latticed trolleys (for archived files, large objects, confidential documents and to protect against theft of vulnerable objects during a move)
security boxes for very confidential documents
labelling so that the objects being moved can be reassigned to their proper place
The packing material, such as cardboard moving boxes, is delivered to the person in charge of the move at your company sufficiently ahead of schedule.
Technical transport solutions
External lifts (for moves in narrow city centre districts or involving narrow staircases, e.g. in old buildings)
step drills
forklifts, scissor forklifts
special forklifts
ramps, folding ramps
manual stackers
furniture trolleys
and much more.
Do you need an external lift?
If you want to carry out your removal work yourself, you can hire an external lift from us if you need one. We will look after your request.