The solution for every space problem
Whether you as a private individual want to store furniture in a warehouse private individual or, as someone who operates a company, require space on a short- or a long-term basis outside your own company, we have the space that you don't. Suitable storage boxes in accordance with your individual requirements are available, from 1 to 20 square metres in size.
What is self-storage?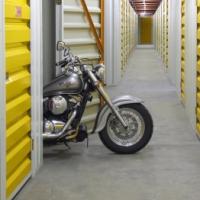 The trend in self-storage began in the USA. In the interim the demand for small storage boxes has been recognised in the areas of both private and commercial storage. In concrete terms self-storage means that you yourself place the goods you want stored in our modern storage boxes and have access to them at any time. You have exclusive access to your storage box. You decide on what you want to store and for how long you want to store it.
For what purposes can the SB warehouse be used?
Private (examples)
Storage in a warehouse. Would you like to store your furniture or other goods in a warehouse? You have no basement, the usual storage rooms are too small, too damp or unsafe?
Moving house or renovation. Do you need temporary storage space in a warehouse because you are moving house or having your house renovated?
Temporary storage. For anyone who would like to store something not required on a daily basis but which should be accessible if necessary, e.g.:  sports equipment, furniture, books...
Commercial (examples)
Increasing need for storage space. Do you need additional storage space because your own warehouse has become too small or is not profitable?
Storing goods. For business customers who would like to store goods off their premises on a short- or long-term basis, e.g.:  materials from handicraft businesses, seasonal goods, sample stock, trade fair stands, brochures, etc.
Acceptance of goods by us. For business customers who would like to have their deliveries accepted during business hours. During this time, you can go about your business and earn money.
Packaging materials in the SB warehouse removal shop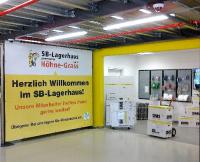 In addition to a secure and clean storage box, our modern removal shop provides suitable packaging materials. Her you can find all you need to pack the goods you want stored in our warehouse in a structured and secure manner. For example:
cardboard moving boxes
clothes boxes with hanging devices
bubble wrap, packing covers, adhesive tapes...
transport rollers
sack trucks
and much more.
The advantages for you
the storage costs are variable costs
          
the rental price is the final price
the rental contract can be cancelled after 4 weeks
the storage space can be booked on a variable basis
objects can always easily be moved between the storage units (depending on availability)
Do you require a storage box in Darmstadt?
There you can choose between in-house and drive-in storage boxes. The storage boxes provided by our sister company, Friedrich Friedrich, can quickly be reached from the A67 and A5 motorways.