Not enough space in your own home or business?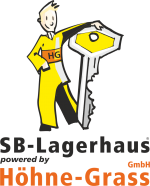 As removal professionals we naturally offer you different types of storage for the most varied types of requirements. From private storage of your furniture through mobile storage in containers to conventional types of storage, e.g. block storage for business customers. Each different type of storage has advantages which we discuss with you during a personal chat. Short storage times are no problem for us, nor are short-term requirements, for example if you require storage space overnight.
Rent storage space in the SB warehouse in Mainz
In our SB warehouse in Mainz you can rent secure storage space in sizes from 1 to 20 square metres to ensure that your property is held in accordance with the principle of self-storage. Whether it is a question of privately storing furniture, basement stock or storing trade fair stands, advertising material, etc., for businessmen: Self-storage saves time and money. Our SB warehouse is conveniently located for traffic, in the "Alten Waggonfabrik" builidng in the borough of Mombach in Mainz. You can drive right up to the warehouse.
► More information on the different types of storage offered by Höhne-Grass