A free apartment inspection is something we consider natural.
Because most moves involve more than simply transporting furniture, they should be preceded by competent advice from a removal consultant. We personally inspect the place you are moving from and the household objects you are moving because only in this way can we plan your move optimally and create a legitimate and reliable offer for you. Without a personal inspection there is a risk that your offer will be too expensive or too cheap, that suitable packing materials will not be available or that the circumstances in which loading/unloading takes place will be complicated by a lack of equipment/lack of preparation, subsequently resulting in additional costs. The risk of such inconveniences does not exist with us. Naturally we inspect the apartment free of charge.
More than furniture transportation - A removal service from A to Z
As a quality-assured removal company with a TÜV certificate, you can expect the following from us, amongst other things:
specially equipped furniture vans with air suspension for smooth transportation of furniture
trained specialist staff including fitters and carpenters
packing and unpacking of household objects by request
special packing materials to protect valuables
special equipment such as external lifts, e.g. for use in old apartment buildings, narrow staircases, etc.
if required, setting up of no-parking zones
thorough final cleaning and renovation of the proper being left
storage of your furniture/your household objects in our SB warehouse
by request you can book a climate-neutral move from us
we are prepared for the special needs of senior citizens when they are moving house
additional removal services by request
Additional services provided by us: assembly services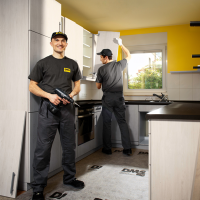 You don't have to assemble everything yourself.  Our removal service includes various services provided by workmen who ensure that everything in your new apartment is put in its right place again. To this end we employ our own fitters and carpenters. The assembly services we provide as part of a move include:
disassembly and reassembly of your furntiure/cupboards made by all established manufacturers
disassembly and reassembly of your kitchen (including changes to same) by our own joiner
dismounting and remounting of lamps and paintings
dismounting and remounting of curtains and drapes
connecting washing machines, driers, dishwashers and all connection points in the kitchen
connecting PCs, TVs and hi-fi systems, including functional checks
Naturally you determine the scope of the services!
Especially for you - The no-smoking move
Good air is important so that you can feel well in your new home. With us you have the option of having your move carried out 100% smoke-free. Without any additional costs and by request, we only use removal vans in which there is no smoking, use non-smoking removal staff and use smoke-free packing material.