In addition to a corporate philosophy geared towards sustainability and environmental protection, Höhne-Grass offers its customers the real possibility of moving in a climate-neutral way. In short, this means that all of the CO2 emissions caused by the individual move can be compensated for in the form of a certificate.
How is the amount of CO2 emitted during a move calculated?

With the company Climate Partner we have a professional partner by our side who creates our very own CO2 footprint for Höhne-Grass every year. This includes data such as energy consumption, the heat energy required for properties, the routes staff take to and from work, consumption of office material and much more. The annual updating of the CO2 emissions from our removal company is used as the basis for calculating the CO2 likely to be emitted during your move. The reason for this is that other values are included in the calculations such as the distance of the move, the size of the furniture van as well the number of staff used.
How is the CO2 emitted during a move with Höhne-Grass compensated for?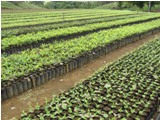 Because CO2 does not respect land borders, the amount of CO2 emitted can be compensated for in all parts of the world. This is therefore efficient because often more can be achieved by sponsoring projects abroad. The corporate group of which Höhne-Grass is also a member decided on a reafforestation project in Costa Rica. For every climate-neutral move you make with us, new trees can be planted there which bind CO2 from the atmosphere. We ourselves have been to Costa Rica to make sure that the project is being implemented.
Advantages for corporate customers
Companies that move in a climate-neutral way send an important signal to their staff and customers. Every customer who books a climate-neutral move from us receives a personal certificate providing evidence of his or her commitment to climate protection.