With care and white gloves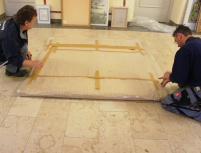 Artworks and paintings in businesses have an equally positive effect on customers and staff alike. This might be why you have one or two art objects on your premises which you would like to take with your when you are moving office. Or maybe you yourself are an artist, curator or gallery owner? Then you need a partner who knows all about the fine points of transporting art objects.
We know how to "get to grips with" paintings, sculptures, antiques and musical instruments. Our staff receive regular in-house training on how to deal with art objects and use special packaging solutions This guarantees that your property reaches the new location safely.
Art objects are specially packaged
Whether they are paintings, sculptures, art installations, musical instruments or antiques, to protect your artworks we use individual special packaging for transporting art objects. The special types of packaging used during the transportation of art objects include, amongst others:
soft packaging
special paper
bubble wrap
transport frames
boxes for paintings
made-to-measure special packaging
With our proven packaging and transport methods your art objects are safely protected against dust, dampness and vibrations. Because we are an international removal company we also deal with the transportation of art objects abroad or overseas. An experienced move coordinator is always by your side, deals with all of the formalities and knows about the relevant import regulations. In this respect, we are constantly in contact and exchanging information with both you and the recipient.
Storing art objects in warehouses
The storage of different types of property from a home or business is another of our removal company's business segments. For art objects we offer you safe storage in a warehouse optimised with regard to the climate if this is necessary.